Israel, Saudis Find Common Cause in Warning of Iran Expansionism
Israel and Saudi Arabia delivered twin warnings to Iran, telling a global security conference it's time to confront the Islamic republic's encroachment on the Middle East.
Israeli Prime Minister Benjamin Netanyahu evoked the West's appeasement of Nazi Germany before World War II in a speech at Munich that described Iranian aggression as "the greatest threat to our world" and warned that Israel would resist it. Saudi Foreign Minister Adel Al Jubeir, addressing the event later Sunday, said Iran needs to pay a price for its "aggressive behavior."
Faced with a war in Syria that has destabilized the region, redrawn its threat map and escalated the risk of a wider war, Israel and Saudi Arabia, which have no diplomatic relations, are finding a common enemy in Iran. Last week, Israel lost a combat aircraft to hostile fire as it returned from air strikes in Syria, an incident that reportedly began with an Iranian military drone entering Israeli territory.
Netanyahu interrupted his speech to hold up a piece of metal he said came from the drone and asked if Iranian Foreign Minister Mohammad Zarif recognized it. Iran denies it sent the drone into Israel.
'Iran Itself'
"Take back with you a message for the tyrants of Tehran: 'Do not test Israel's resolve,"' Netanyahu said. "Israel will act not just against Iran's proxies that are attacking us, but against Iran itself."
Zarif, addressing the audience later Sunday, said Netanyahu's "cartoonish circus" didn't "deserve the dignity of a response." He said Iran doesn't "want to be the hegemon in the region" and, in a warning directed at the U.S., threatened that his country will "respond seriously" if global powers scrap the nuclear deal with Iran.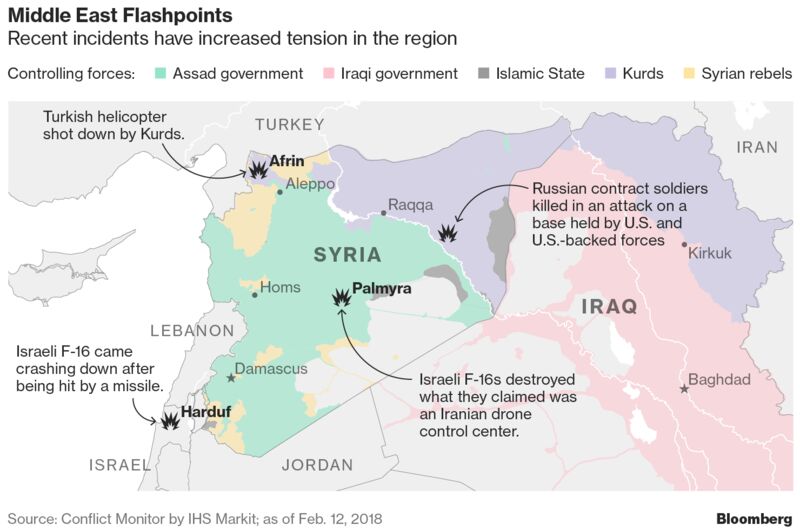 Netanyahu has used other high-profile platforms, including the U.S. Congress and United Nations General Assembly, to highlight the existential threat to Israel if Iran develops nuclear weapons. On Sunday, he focused equally on the threat created by Iran's conventional military entrenchment in Syria.
Israel feels increasingly abandoned as regional partners prioritize their often conflicting interests in Syria's seven-year civil war, now that a common enemy — Islamic State — is largely defeated. That has left Israeli leaders with an unpalatable choice: Tolerate a permanent Iranian military presence on their border, or risk going to war to prevent it.
This month alone, U.S. aircraft killed as many as 200 Russian mercenaries as they attacked Kurdish forces in eastern Syria; Turkey threatened to expand its invasion of northern Syria to take on Kurds embedded with U.S. advisers; and Israel shot down the Iranian drone. Israel's biggest concern is if Iran established a land corridor to Lebanon via Iraq and Syria, where Islamic Revolutionary Guard Corps commanders oversee thousands of militants.
Netanyahu urged policy makers to avoid the mistake of Munich negotiators who failed to stand up to Adolf Hitler 80 years ago for fear of provoking a conflict. Their inaction "made a wider war inevitable and far more costly," he said.
Netanyahu said Israel has stayed on the sidelines of the Syrian war so far, acting only to stop transfers of advanced weapons bound for Hezbollah, a Shiite political party that serves as Iran's proxy militia in Lebanon. That could change if Iran establishes a new reality on the ground in Syria, he said.
Read full article by Marc Champion, Jonathan Ferziger and David Wainer on Bloomberg, February 18, 2018.