Egyptian President Abdel Fattah el-Sisi visited the Sultanate of Oman and the United Arab Emirates (UAE). This visit, which was the first for an Egyptian President to Oman since 2009, carried important messages about Egypt's foreign policy vis-a-vis Gulf, and possible new role for Egypt in the Saudi-Emirati dispute with Iran.
Compared to other Gulf Cooperation Council (GCC) states, Oman has maintained a steady relationship with Egypt. Since the ascendancy of former President of Egypt Anwar al-Sadat and Oman's Sultan Qaboos to power in 1970, both countries have avoided confrontation. Strong relations between Cairo and Muscat grew in Egypt's period of isolation in the world when the Cairo faced a boycott by almost all Arab League members after Sadat signed the Camp David Accords with Israel. Oman rejected the Arab consensus and considered the agreement one for Egypt to make as a sovereign country with an independent foreign policy. Also, in Egypt's post-2011 revolution aftermath, Oman always maintained one policy toward the successive governments in Cairo. In contrast to Abu Dhabi, Doha, and Riyadh, Muscat's relations with Egypt during the presidencies of Hosni Mubarak (1981-2011), Mohammed Morsi (2012-2013), and Sisi (2013-present) have all been positive.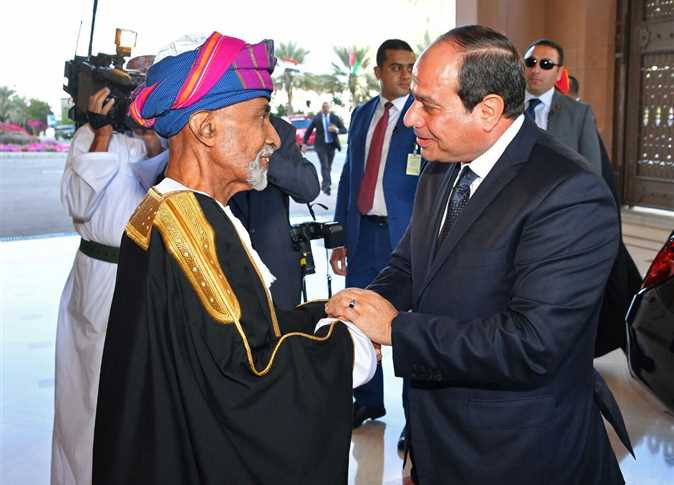 Sisi's visit to Oman came at a time when Cairo is urging Saudi Arabia and the UAE to ease their stances against Iran and engage the Islamic Republic diplomatically to solve differences in the region. Egypt's new position toward Iran is closer to Oman's and less like Saudi Arabia and the UAE's. This new foreign policy could be perceived as backing down on Egypt's allies in Riyadh and Abu Dhabi. Previously, Iran and Egypt had tense relations due to the Islamic Revolution in Iran 1979's aftermath when Sadat decided to host the exiled Shah of Iran, who was a close ally of Sadat. Yet, relations totally collapsed after Iran named a street in Tehran after Sadat's assassin, Khalid Islambouli. Today, Egypt's current stance vis-à-vis Iran is in line with Sisi's foreign policy that sees regional security being threatened by the Muslim Brotherhood movement, not by Iran and its militias. This position differs in priority from that of Saudi Arabia, UAE and Bahrain which view Iran as their main threat.
After Oman, President Sisi visited the UAE, Egypt's closest ally in the GCC since 2013. Abu Dhabi played a major role in supporting Egypt's struggling economy since 2013. The UAE is ranked number one among countries investing in Egypt's market with total investments of $6.2 billion and the volume of bilateral trade exchange during the first nine months of the fiscal year 2016-2017 increased to reach $4.6 billion. Also, the UAE is considered a major destination for Egypt's migrant laborers. Egyptian workers are ranked number one among Arab nationals in UAE, with 400,000 Egyptians working in all sectors in UAE. The elevated economic collaboration stems from political mutual interests in crucial regional files for both countries. Both President Sisi and UAE Crown Prince Mohammed bin Zayed led the crackdown against the Muslim Brotherhood in the Gulf and Egypt, and dramatically weakened the movement. UAE mobilized its media and diplomatic efforts to back Sisi in his tussle with his main rival, the MB. Therefore, it is not clear how the UAE will react to the change of Egypt's policies toward Iran, the country that poses territorial threat on UAE by occupying three Emirati islands. Mainly that the new position might weaken Abu Dhabi and Riyadh's position vis-à-vis Tehran and strengthen Iran. Yet considering Egypt's current state of affairs, the Saudi and Emirati leadership likely realize that for all of (what they see as) Sisi's shortcomings on the Iran file, he is the best hope for a stable Egypt and that is why Riyadh and Abu Dhabi will likely continue supporting him. Yet what remains to be seen is how far Sisi can go in warming Egypt's ties with Iran without eliciting too much of a negative response from Cairo's closest GCC allies.
Gulf International Forum